User guide
This guide is aimed to users, there is also one for Admins and for Sysadmins.
Experiments
Experiments showed on the Experiments tab (the main tab) are mixed with experiments from other users in your team. To see only your experiments on this page, you need to disable a setting in your User Control Panel (link available in the top right menu):
Once logged in, you can create an experiment by clicking the «Create» button on the top right of the screen. You will be presented with an «edition» page (you can see 'mode=edit' in the URL); the two other modes being 'view': display a single experiment, and 'show': display a list of experiments.
See the getting started video:
Templates
In order to save time during experiments creation, it is highly recommended to use the Templates for experiments you often do. They are a skeleton of a real experiment. To create a template, select "My templates" from the User menu.
Then, click the "Create" button, enter a title, and start editing your template. Once you are satisfied with it, click save. By default, the template is "pinned", which means it will appear in the menu next to the "Create" button on the main "Experiments" page. If at some point you do not wish to have this template available in this menu, you can toggle its pinned status from the extended menu on the right (three vertical dots) by selecting: "Toggle pin (add to create button menu)":
From this menu you can also choose to download the template as an ELN archive, which can be useful if you want to share it with someone on another eLabFTW instance.
Edit mode
Date
The date is today's date by default, in the format YYYYMMDD. You can edit it as you wish. The real creation date/time is stored in the database in another column.
Status
This useful feature lets you set the 'status' of an experiment. By default you can have:
Running (selected upon creation)

Need to be redone

Success

Fail
These status can be modified completely by the admin in the admin panel.
Permissions
The "Visibility" and "Can write" part allow you to control who can access this entry. Click the Edit button to display a menu and add or remove permissions.
Title
The title of your experiment. A duplicated experiment will have a «I» character appended to the title upon creation.
Experiment (body)
This is where you describe your experiment and write your results. It is a rich text editor where you can have formatting, tables, colors, images, links, etc…

Steps
Steps are a way to list the things one need to do during the experiment. So you can write several steps, and once they are done, click the checkbox to declare them finished. This is quite useful for long experiments spanning over several days, where the "Next step" will be shown in Show mode (index list), so you can see at one glance what is the next thing to do for this particular experiment.
Note that you can also declare steps in a template.
Linked items
This field allows you to link an item from the database. Just begin to type the name of what you want to link and you will see an autocompletion list appear. Select the one you want and press Enter. The number of links is not limited.
This feature can also be used to link an experiment to a particular Project. If you have a «Project» Item Type and have a Project item in your database, you will then be able to see all experiments linked to this project by clicking the Link icon.
Linked experiments
Same as above, but for experiments.
Attach a file
You can click this region to open a file browser, or drag-and-drop a file inside. The file size limit depends on the server configuration, and there is no limit on file type. If you upload an image, a thumbnail will be created. There is no limit on the number of files you can attach to an experiment.
When you are done, click the «Save and go back» button.
You are now in view mode.
View mode of experiment
In the view mode, you will find an actions button bar in the upper left part:

1. Go back
Go back to the listing.
2. Edit
Switch to edit mode.
3. Duplicate
Duplicating an experiment allows you to quickly create a new entry with the same Title, tags, body and links, but with today's date and a running status. Uploaded files are not duplicated. A «I» character will be added to the title to denote that it is a replicate.
4. Timestamp
When you click this button, a timestamp archive is created. Timestamping an experiment means that a pdf is generated, and a cryptographic sum of that pdf is then sent over to a trusted third party: the TimeStamping Authority (TSA). This external service will acknowledge the existence of that pdf (through its cryptographic sum) and send back a token, so that we can later prove that this data was present at that time. The pdf and its token are then attached to the experiment in the attached files section. This timestamp archive is immutable and cannot be modified or deleted. This protocol is defined by RFC3161, a standard for Trusted Timestamping.
5. Bloxchain timestamp
This button, representing blocks, will do the same timestamping as above, except it will use the blockchain technology and the service provided by the BloxBerg consortium. You can learn more about it here: BloxBerg website.
7. Toggle pin
Clicking this icon will make this entry appear on top of the listing (pin entry).
8. Toggle lock
The lock icon allows you to lock the entry to prevent further editing. If you lock it yourself, you can later unlock it, but if it is locked by an admin, a user won't be able to unlock it.
elabid
In the bottom right part of the experiment, you can see something like: «Unique elabid: 20150526-e72646c3ecf59b4f72147a52707629150bca0f91». This number is unique to each experiment, and immutable (won't ever change). You can use it to reference an experiment with an external database.
Database
Same as experiments for a lot of things, except there is no status, but a rating system (little stars). You can store any type of items inside, the admin can edit the available types of items.
In view mode, click the link icon to show all experiments linked with this item.
Examples of database items types:
antibodies

microscopes

plasmids

drugs

chemicals

equipment

projects
Booking resources
It is possible to use the scheduler (calendar) present on the Team page's first tab to book resources.
Making a resource bookable
In order to book a resource, it needs to be bookable (they are not by default). To do that, go to the resource, and click "Modify booking parameters" from the top right menu with three vertical dots: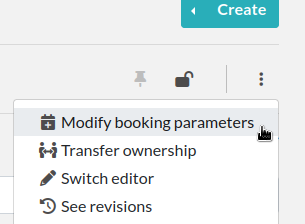 This will show a modal window with various settings: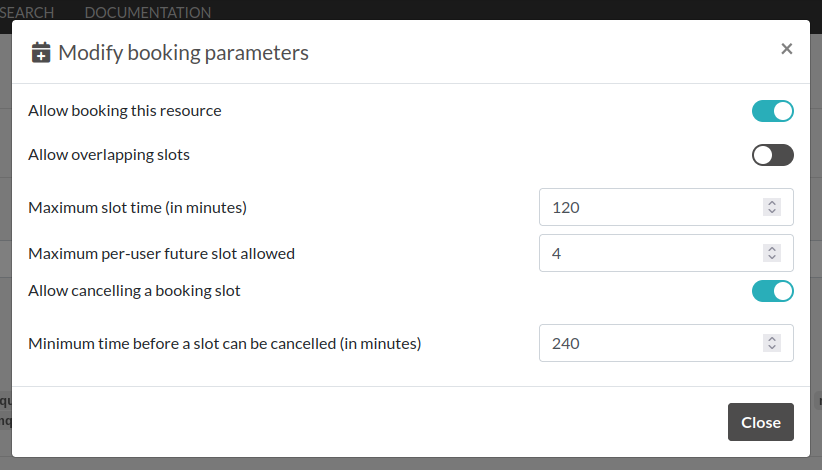 

| Setting | Description |
| --- | --- |
| Allow booking this resource | This is a general toggle to allow booking of the resource |
| Allow overlapping slots | Control wether it is allowed to have more than one booking slot at the same time |
| Maximum slot time (in minutes) | Maximum number of minutes allowed for a single booking slot |
| Maximum per-user future slot allowed | Number of future slots allowed for a particular user/resource couple |
| Allow cancelling a booking slot | Control wether users are allowed to cancel a booking |
| Minimum time before a slot can be cancelled (in minutes) | If "now" is closer than this number of minutes to the start of the event, it will not be possible to cancel it |
Adjusting permissions
When a resource is bookable, a new permission appears: "Can book":

By default, it will match who can read the entry, but it can be adjusted to fine tune who exactly has access to this resource for booking it.
Using the scheduler
Once all is set, users can click the "Book item" button in the toolbar, or select it from the Scheduler page, and click the calendar to drag a booking slot.

Clicking an existing slot will display a modal window allowing several options such as binding the slot to an experiment or another resource, or cancel booking, with or without sending a notification to users.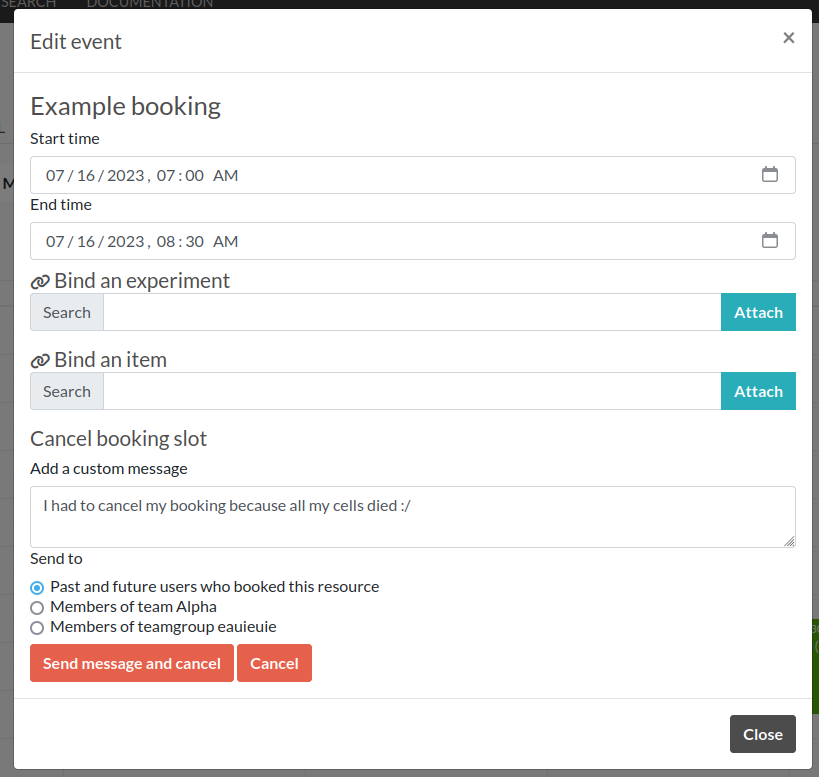 Note: "Past and future users who booked this resource" means all users who booked the resource in the past two months and the ones who booked it in the upcoming month.
User panel
The user panel is where you can adjust preferences for your account. You can access it by clicking the link in the bottom left of every page, or through the user menu in the top right.
How to have folders or projects grouping experiments?
First, try to go beyond the nested, tree-like structure of hierarchical folders.
Imagine you have an experiment which is:
about "Protein MR73"

using "Western blot"

an external collaboration

with "HEK cells"
Now if that experiment was a file, you might want to store it in "Collaborations > Western Blot > MR73" maybe. Or "Project MR73 > Collaborations > HEK"?
But what if you have another one that is also using HEK cells but has nothing in common with the previous one. How would you go about looking for all the experiments with HEK? And all the experiments related to MR73 that involve a Western Blot?
In a traditional folder structure, you would need to search for it in almost each sub-folders.
Enter tags.
Tags
Tags are a way to label your experiments (and database objects) with defined keywords and you can have as many as you want!

Now with the experiments correctly tagged, finding them through different search angles becomes easy! You can search for one tag or many tags directly from the main page.
Using Projects
There is also another way to group experiments together, that you can use along with tags. It's using a database item of type : Project.
Go to the Admin Panel and create a type of item: "Project". Go to the Database tab and create a new "Project" describing a group of experiments, a project. Go to the Experiments tab and create an experiment. In the field "Link to database", type the name of the project and click on the autocompletion field appearing, and press enter (or click outside). This experiment is now linked to the project. So you can easily go to the project description from the experiment, but more importantly, you can from the Project entry, click the "Show related" icon (chainlink) and display all experiments linked to this project!
Make sure to create experiments templates that already link to that Project so the link will always be here when the experiment is created by a user.
Importing data
It is possible to import data from files into eLabFTW. Click the arrow on the left of the Create button to show the Import from file menu entry. A modal window appears to allow you to choose:
Where do you import: either the category of database items, or your experiments or if you are Admin, experiments of other users

The read/write permission levels of the imported entry(ies)

The actual file to import
Importing from a .eln archive
You can import data from a .eln archive generated by any ELN software conforming to the specification.
Importing from a .zip archive
Only zip files generated by eLabFTW can be imported here.
Importing from a .csv file
If you already have some "items" catalogued in an Excel file or File Maker database, you can import them in eLabFTW with a .csv file. A .csv file is a very simple file format. You can save a .xlsx or .ods file into this format. If using Microsoft Office, make sure to select "CSV UTF-8" in the dropdown menu. It needs to be "flat", meaning the first row is the column names, and all subsequent rows correspond to one entry.
To achieve a successful import, make sure to follow these instructions:
1. Preparing the file
It is important to make sure that the file you are going to import is "clean". Open your file (.xls/.xlsx/.ods/.csv) in an editor like LibreOffice Calc or Microsoft Excel.
Make sure that there are now empty rows or extra information outside the main data. And that you don't have columns with the same name, or columns with no useful information.
You should have a number of columns and rows, looking something like that:


| Name | Host | Target | Reference | Seller | Storage |
| --- | --- | --- | --- | --- | --- |
| Anti α-actin | Mouse | Human | AB3148 | Abcam | -20°C |
| Anti γ-tubulin | Rabbit | Human | AB1337 | Abcam | +4°C |
Now you need to have a column named title. This is the column that will be picked up as the title of the eLabFTW entry once imported. This column doesn't necessarily needs to be the first one, but it needs to be there. Here we're going to change the "Name" column. So now it looks like this:


| title | Host | Target | Reference | Seller | Storage |
| --- | --- | --- | --- | --- | --- |
| Anti α-actin | Mouse | Human | AB3148 | Abcam | -20°C |
| Anti γ-tubulin | Rabbit | Human | AB1337 | Abcam | +4°C |
If you wish to include tags during the import, specify a column "tags" that will contain the tags separated by a "|" character. You can also have a "metadata" column containing JSON.
Once you are satisfied with the file, export it as a .csv (in File > Save as…). Make a copy of only the first 3 rows and export that too as csv, this will be our test file.
2. Importing the file
Click "Import from file" from the "Create" submenu. If you haven't done it already, create first an Item Type that fits your data (or ask your Admin to do it). Here we will create an "Antibody" category as that's what we are importing, from the "Items Types" tab.
In the import windows, select the correct category (Antibody in this example). Then select the visibility. Now select your test CSV file (with a few rows only) and click the "Import" button.
Every row will correspond to an entry in the correct category of database items. All the columns (except title) will be imported in the body of each entry.
If the import looks good, you can now delete these newly imported items and import your complete file.
Using the API to control how things are imported
If you want to have complete control over the import process, you can use a few lines of python to do the import.
Warning
Important: the scripts linked below will import automatically all the rows present in your CSV file. Try first with a few rows before importing everything, so you have a chance to correct errors easily!
We will use the elabapi-python library to make things easy. See installation instructions.
You can then have a look at this example to import CSV using the API and metadata/extra fields.
Miscellaneous
You can export experiments in .zip. If the experiment was timestamped you will find in the archive the timestamped pdf and the corresponding .asn1 token.
You can export and import items from the database (it can be several items).
Press 't' to have a TODO list.
In the editor, press Ctrl+shift+d to get today's date inserted at cursor position.
Signatures
On paper notebooks, there was this idea of having another lab member signing every page of a notebook before the page would get plastified to prevent modifications. To my knowledge, this was seldom done properly.
With eLabFTW, you can have this workflow, but it is much easier to achieve:
User A finishes an experiment

User B, that has locking power (Admin + Lock user group) can go on that experiment and click the lock icon
This prevents user A from modifying the content (like plastifying), and it keeps a log of who locked it and when (like signing the page).